Careers
Be part of something groundbreaking
We strive to be the best place our employees have ever worked, and to produce the best coffee our customers have ever sipped. As a part of our team, you'll be working with people who are down-to-earth, friendly, and passionate in a casual, caffeinated, and fun environment.

Coffee lovers unite
We believe in sustainably sourced coffee and tea, are committed to green operational practices, and place a high value on strengthening our ties to the communities in which our stores exist.

We strive to provide a safe, effective, and inspiring training and working environment that will support our team members in their journey to develop their skills. The ideal candidate should exhibit intelligence, focus, passion, dedication, and a commitment to their craft. The ability to relate to others skillfully and with authenticity, kindness and warmth, are also crucial attributes we look for in our team members.

Fresh Perks
Here are just a few of the benefits we offer.


Medical, Dental & Vision Insurance
Our core values
These five core values embody our culture, spirit and dedication to doing what's right.
Employee Spotlights
Foodservice Sales Manager
Robby
Favorite Brew - AMUCC and Ethiopia

Fun Fact - Robby has been skateboarding since he was 7 years old. He's retired from the tricks but it still remains as his main creative outlet.
"I've been working in coffee since I was 19 years old. Over the years, I've made amazing relationships through coffee - I met my wife working as a barista. Personally for me, I think skateboarding and coffee are very similar. Learning a new trick vs dialing in a new coffee requires a lot of patience and trial and error but when you nail it, it's a great feeling that can't be explained."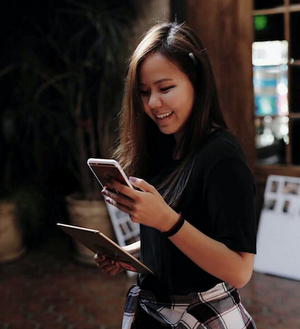 Content + Community Specialist
Su
Favorite Brew - Beehive Matcha Latte

Fun Fact - Su loves nothing more than her dogs, spicy food, and staying up late- in that order. When not at work, she loves trying new restaurants, playing tennis, and drawing.
"I've always loved coffee, tea, and the community aspect of cafes. Not until I started working for Groundwork is when I truly appreciated the difference organic product makes for the final cup I drink in the morning. I'm always visiting our cafes, if you see me, please don't hesitate to say hello! Love my Groundwork fam!"
Seeking great people for the following positions:
Line Cook (Full-Time)
Larchmont Location
Accounts Payable Clerk
North Hollywood, CA
PT Barista
Los Angeles, CA (Various Cafés)